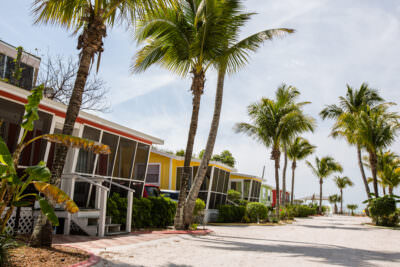 At Sanibel Captiva Beach Resorts, we hold guest satisfaction to the highest level. That's why, whenever you may have a question about our resort, we're happy to answer it. 
One of our most frequently asked questions happens to be about two of our resorts — Castaways Cottages and Beachview Cottages. What's similar? What's different? Which one would be a better fit for your vacation?  
Let's take a look!  
For starters, let's see how these top Sanibel resorts are similar. Good news, both share great qualities that make them a must–stay. Each is located directly on the Gulf of Mexico, offering pristine, private beaches, palm trees and sunshine. Our cute and cozy island cottages are the perfect getaway for your stay — with 1- 2- and 3-bedroom options. Outfitted with a classic tropical vibe, each cottage is uniquely decorated which allows guests to easily get into vacation mode. Also, when you book direct and stay two nights or more, you'll receive our Island Rewards Coupon Book, a $250+ value where you'll save money on activities, restaurants and shops across Sanibel and Captiva Islands.  
As for differences, both offer a slice of Sanibel exclusive from one another. The main difference — location. While each resort rests along the beach, both reside on different parts of the island.  
For guests who enjoy time at the beach as well as sightseeing, Beachview Cottages is the place to be. Beachview is located on the Gulf in the middle of Sanibel Island. It's close to the causeway, sights to see like J.N. "Ding" Darling National Wildlife and Sanibel Lighthouse, and Sanibel's "downtown,"  which is filled with shops and restaurants (don't forget Normandie Seaside Café almost next door at West Wind Island Resort!).  
For guests who prefer things on the quieter side, Castaway provides just that. Located at Blind Pass at the very north end of the island, Castaway Cottages offers you both beach and bay access. For those who like to spend mornings fishing off the docks and piers followed by afternoons at the beach, this is for you. Castaways is also close to Captiva Island, where you'll find eats, treats and fun (Crow's Nest at 'Tween Waters Island Resort & Spa has nightly live music and entertainment).  
It's clear that paradise is in abundance on Sanibel, but what you decide to do in paradise is up to you. Let Sanibel Captiva Beach Resorts welcome you to relaxation and fun.