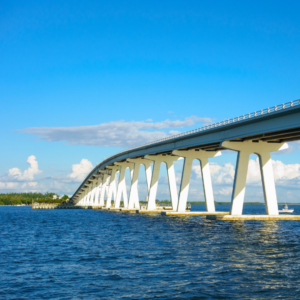 The Sanibel Causeway is one of the most gorgeous drives in Southwest Florida. For guests, it's like the Yellow Brick Road leading them to a beautiful place they've been longing to visit. 
And, while the rumors of a tollway fee increase are true, we're here to let you know that the increase is only for those who DO NOT have a transponder or account with Sun Pass. If you're interested in getting a transponder, please visit www.sunpass.com for further information. 
For those who aren't interested in a transponder, Lee County has recently voted to increase the toll fee for access to Sanibel by an additional $3.00. Again, this increase is only for cars, trucks, and motorcycles that don't have a transponder or account with Sun Pass. 
For guests who are using a rental vehicle for travel, we highly encourage you to check with the company you're renting a car from to see if a transponder is included. Many auto rental companies in Fort Myers have transponders installed into their vehicles, but it's best to make sure. You can tell the rental company that you intend on making a trip over the Sanibel Causeway. Therefore, the company knows and will provide a vehicle with a transponder to you.  
Sun Pass recommends starting an account with them directly for guests and visitors driving their own car, truck or motorcycle. Guests can do that by clicking here or purchasing a Sun Pass transponder at any Publix, Walgreens or CVS in Florida. 
It's important to remember that the Sanibel Causeway is only a one-time fee to get onto the islands. There is no fee to leave. And, you don't have to! Sanibel and Captiva have enough grocers, shops, restaurants and more to keep you happy on your vacation.