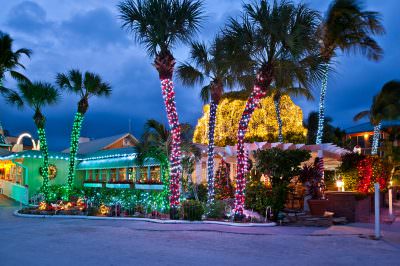 When it comes to vacationing in Florida, there's one thing we all want — a great time in warm and gorgeous weather that Southwest Florida is famously known for. Luckily for you, Sanibel Captiva Beach Resort has an ample amount of spots that provide just that.  
And, while basking in the tropical glow, you might wonder about what other fun activities you can do in paradise during this holiday season. 
Guess what — we have an ample amount of that, too. 
At SCBR, our resorts are like keys on a piano where each one is unique but together make up a beautiful tune. The key is to find your muse and what melodies you like best.  
For example, you won't find a better resort for shelling than at West Wind Island Resort of Sanibel and Beachview Cottages. Both resorts are nestled along the lavish shores of the Gulf, where an ample amount of shells wash up in bountiful numbers. And when it comes to holiday DIY crafts, these shells are gold. Ornaments, creative holiday wreaths, picture frames and so much more can be created from them and live on for many holidays to come.  
At the legendary Tween Waters Island Resort & Spa on Captiva Island, our holiday lights are bound to bring Christmas joy into your life. The outside of our resort is currently illuminated with reds, greens, whites, bright yellows and more that twinkle through the night. They'll radiate with festive brilliance and get you into the holiday spirit.  
However, if relaxing is what you're all about — Castaway Beach & Bay Cottages has you covered. Our vintage cottages are tucked away on Sanibel's quiet end, resting along the calm, peaceful bay waters. The only sound you'll hear are the pelicans near the docks, diving into the waters for a quick bite to eat as the setting sun fills the sky with warmth.  
Even if you can't make it to our paradise this holiday season, we encourage you to Look Ahead, Book Ahead in the near future. We are approaching the best season of the year and host the perfect destination for your Valentine's Day or Spring Break trip.  
Feel free to see what we have available here and let's start planning your next vacation today.