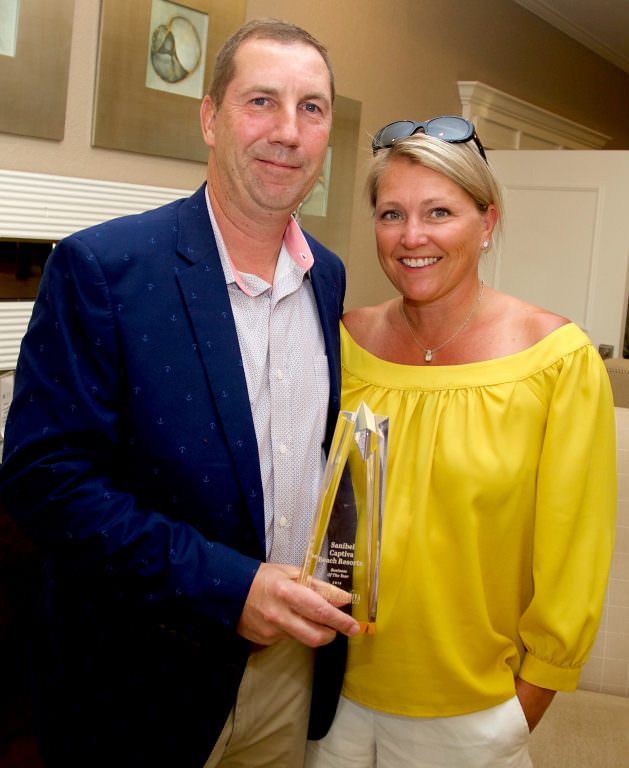 All of us at Sanibel Captiva Beach Resorts are proud to share some very exciting news: your favorite island destination marketing organization has been named 2019's "Business of the Year" by the Sanibel Captiva Chamber of Commerce. The award was presented recently at the Chamber's annual meeting.
Sanibel Captiva Chamber of Commerce President John Lai noted that the corporation, under the leadership of Chief Executive Officer Tony Lapi and Chief Operating Officer Doug Babcock, "has given back greatly to our community with their resources and time. This award recognizes their tremendous generosity over the years."
"All of us at Sanibel Captiva Beach Resorts are thrilled with this honor," Babcock noted. "In particular, both Tony and I want to thank all of our 250-plus employees across our resorts, vacation rental company, restaurants, marinas and spa for living our mission of making our guest experiences so outstanding they return year after year, and sometimes, generation after generation." Mr. Babcock (with wife Paige) accepted the award in Mr. Lapi's absence.
In 1931, the aptly named 'Tween Waters Inn welcomed its first overnight guests to Captiva Island and a history of hospitality that now spans two centuries was born. Forty-five years later, a young man from Rochester, New York — Tony Lapi — and his partners made 'Tween Waters Inn the first lodging brand under the newly formed Rochester Resorts.
That company — today known as Sanibel Captiva Beach Resorts — has grown to become among the largest and most successful destination, marketing and management organizations in Southwest Florida. The company's portfolio includes the historic 'Tween Waters Island Resort & Spa of Captiva Island; West Wind Island Resort, Beachview Cottages and Castaways Cottages of Sanibel Island; and Sanibel Captiva Island Vacation Rentals (with more than 150 premier properties).
SCBR also operates five outstanding and top-rated dining destinations including the landmark Old Captiva House, Crow's Nest Bar & Grille, and Normandie Seaside Cafe — as well as two marinas, a fitness center, wedding and meeting facilities, plus day spa.
As part of its mission, Sanibel Captiva Beach Resorts has committed hundreds of thousands of dollars to island causes — particularly those that support the protection and preservation of our ocean, environment and wildlife. "We're eager and enthusiastic to be a part of Southwest Florida's economy, as well as many of our region's very important water quality and environment efforts," Babcock added.