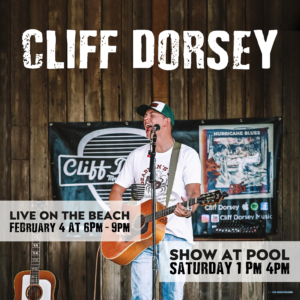 Picture this — you're sitting on the beach watching the sun set behind the Gulf waters over the horizon. You've got your toes in the sand, a drink in hand and not a worry in the world. Then the stars come out, and by stars, we don't mean just the twinkling ones above, but rising country star Cliff Dorsey takes the stage to sing for you.   
If that sounds too good to be true, don't worry because it's happening. On Friday, February 4, Cliff Dorsey will be strumming his guitar live on 'Tween Waters Island Resort & Spa's beach. Not only will Dorsey be playing on the beach, but on Saturday, he'll be playing poolside from 1 pm-4 pm, too. 
Considered one of the best of country's up-and-coming artists, Dorsey delicately blends country and blues together. Susan Hobbs Ortiz, CEO of Black Sheep Records, proclaims his "deep, rich traditional sound will bring you back to the roots of Country music." His renditions of "If Whiskey Was a Woman" and "Honky Tonk Dream" are bound to get you dancing.  
Did you know you can get FREE tickets to the show? Book your stay now and you're in — whether it's 'Tween Waters, West Wind Island Resort, Beachview Cottages or Castaway Cottages. Or, if you wish to purchase tickets only, you can here.  
Don't wait! Tickets and spots on our beach will sell out fast, so book your stay today!