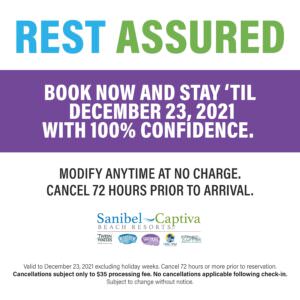 Planning a vacation can be challenging. You'll pick the dates that work best for you and your family, organize travel plans and be sure to bring your shades and swimsuit.
Whew. That's a lot of things to get done to relax. The last thing you'd want is for something to pop up that would require you to change your vacation plans.
That's why at Sanibel Captiva Beach Resorts, we know things happen that can be out of your control. And, if they do, we want you to know that we understand.
With our Rest Assured promise, you can book the trip you've been dreaming of (at any of our resorts) with the peace of mind that, Rest Assured, if something comes up, you have the flexibility to change your vacation date or cancel your booking no later than 72 hours before your arrival (a $35 processing fee on cancellations is required).
While you can't predict the future, you can book ahead knowing:
● Any mid-week or weekend getaway is eligible.
● You can do the monster mash at The Crow's Nest Bar & Grille's Hallow'Tween: Dance of the Dead bash!
● You can get into the holiday spirit at 'Tween Water's Tree Lighting Celebration on November 26.
● For most of the country, the cold, dreary months are coming. A lovely island getaway is just what you need to prep for the wintery season ahead!
So, find a time that works best for you, book it on our website here or call our friendly on-site reservationists at 800.223.5865 and know that your booking is Rest Assured! Valid guestrooms and 1-bedroom suites only.